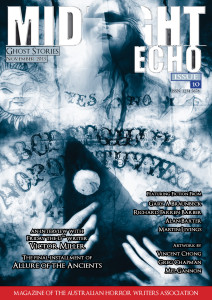 The Cover art and Table of Contents for Midnight Echo Issue 10 (due to be published in late November) have been revealed!
Edited by Craig Bezant, the ghostly Issue 10 is dedicated to all those things that go bump in the night. With more than 100 pages of fiction, art, interviews, book releases, comics, and more, we guarantee you'll be left feeling haunted long after you've read the final page.
Midnight Echo 10 is scheduled for release on November 30. Print copies are limited, so we recommend that you pre-order to avoid disappointment.
Available formats: Digital (epub, mobi, and PDF – all included for the one price), and Print.
If you live outside of Australia,  purchase your copy from the following distributors (and save a bunch on postage costs!): JournalStone Publishing (USA), Fantastic Literature (UK), and Dark Delicacies (USA).
The Table of Contents:
Literature
Lunch by Joseph A. Pinto
Crybaby Bridge #25 by Gary A. Braunbeck
Stillegeist by Martin Livings
I Want to Go Home by A.J. Brown
Tourist Trap by Richard Farren Barber
Blood and Bone by Robert Mammone
Exposure Compensation by Alan Baxter
Stinson Way: A Southern Gothic by Jacob Lambert
A Little Peace by Rebecca Fung
Mother's House by Greg Chapman
Comic
Allure of the Ancients; The Key to His Kingdom – story by Mark Farrugia, illustrations by Greg Chapman
Special Features
An interview with Victor Miller
AHWA Short Story and Flash Fiction Competition winners –
It's Always the Children Who Suffer by Alan Baxter
Darker by Zena Shapter
Moonlight Sonata by Tim Hawken
Regular Features
A Word from the AHWA President – Geoff Brown
Tartarus – Danny Lovecraft (poetry column)
Pix and Panels – Mark Farrugia (comic column)
Black Roads, Dark Highways #5 – Andrew McKiernan (column)
Celluloid Nightmares – Mark Smith-Briggs
Sinister Reads (all the latest releases from AHWA members)
.