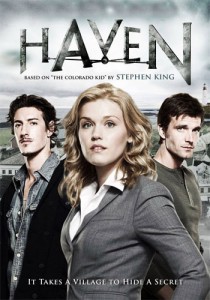 Haven is a Syfy original TV series based very loosely upon the Stephen King Hard Case Crime novel The Colorado Kid. In fact, I wouldn't even say it was really 'based upon'. More 'inspired by' as the connection between series and novel are very tenuous. Instead, it is best to view this series as a totally separate entity – maybe originating from somewhere along a different Beam – and hence there is no need to be familiar with King's hard to find crime novel.
As this is Series 2 that I'll be reviewing, some reference to Series 1 and a brief rundown might be in order, but I'll try very hard to stay away from spoilers.
Haven Series 1 opened with FBI Special Agent Audrey Parker (played by Emily Rose) arriving in the small town of Haven, Maine, to investigate a routine case. Agent Parker soon found herself involved in a series of possibly supernatural events, known locally as The Troubles. In the course of solving these strange and paranormal mysteries, Agent Parker discovered what may be a personal link between herself and the town of Haven; a link that might lead her to the mother she has never known.
Structured in ways similar to shows such as The X-Files, Dead Zone and Warehouse 13, each episode of Haven features Agent Parker – having taken leave from the FBI and now a Haven Police Officer – and her partner Nathan Wuornos working to discover the cause of various 'Troubles' that afflict the town's populace. These 'Troubles' are supernatural in nature, some of them a little clichéd, others totally original. But even the clichéd stories are held together well by some great characterisation from actors Emily Rose (Agent Audrey Parker), Lucas Bryant (Officer Nathan Wuornos), Eric Balfour (the criminally minded but always smooth Duke Crocker) and especially Stephen McHattie (Pontypool's Grant Mazzy as the Reverent Ed Driscoll).
Series 1 ended with something of a cliff-hanger, and Series 2 picks up exactly where it left off with Agent Parker questioning her own name, identity and memories… which may not be her own.
Series 2 follows the same 'one case per episode' style established in the first series: towns people hallucinating or haunted by their worst fears (with a number of knowing nods to Stephen King's IT); machines taking on a life of their own (a theme familiar to a number of King shorts and novels); dark forests with deadly intent; Groundhog Day style time-shifts; and a man haunted by evil and deadly duplicates of himself.
Many of the episodes don't take themselves too seriously, and in some ways this light-hearted approach is closest to that of shows like Warehouse 13 or Eureka. But there are a few stories that take on a decidedly darker tone. "The Tides That Bind" is possibly the creepiest of these, with an opening scene that is sure to chill the blood.
Another feature that makes Series 2 different from Series 1 is a stronger emphasis on a continuous story-arc. The mystery of Agent Parker's own past, and her reason for being in Haven, are examined in much greater detail. This is what I felt really elevated Series 2 above its predecessor. This main story-line never intrudes too much upon the individual episodes – indeed, it is the individual episodes themselves that often drive this main story – but it is a constant undercurrent that really adds a sustained and welcome suspense throughout the series.
Overall, Haven is a well acted and often surprising series. Even clichéd themes are given interesting twists and the main characters are all likeable… except maybe Stephen McHattie's Reverend Driscoll. There are plenty of little 'easter egg' type additions for the Stephen King Constant Reader to discover, and the main story arc will keep you watching for more than just the individual episodes. Haven is a great addition to the genre of supernatural TV, and with stronger character writing, Series 2 is an even bigger improvement on what was already a very enjoyable first series.
Haven Series 2 is distributed by Hopscotch Entertainment and available on DVD and Blu-Ray from May 16th.