The News:
AHWA and JournalStone Publishing (JSP) have entered into an exclusive joint marketing agreement. AHWA and Midnight Echo magazine will be the exclusive Australian distributor of the quarterly magazine, Dark Discoveries, while JSP and Dark Discoveries Magazine will become the exclusive USA distributor of Midnight Echo. This means the pre-existing high premium that potential readers of each respective magazine have had to pay to receive the other periodical in their respective countries will be eliminated, making both magazines much more affordable and accessible/available for all. Look for availability on both the JSP and Midnight Echo websites soon, where you will be able to purchase the magazines individually or in a bundled offering that includes both Dark Discoveries and Midnight Echo.
The Giveaways:-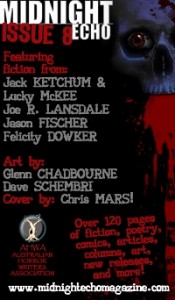 Midnight Echo is holding a subscription drive in the lead up to the much anticipated release of issue #8, with a swag of prizes to be won. Just take out a 1- or 2-year print subscription between now and November 30 and you will go into the draw to win the following:-
The winners will be announced on December 1. Go here for more details or to subscribe.