As we circle our wagons and prepare for an assault on the news coverage of the Aussie horror genre industry, below is a quick update of all that's been happening here over the past month or so. Sure, it's a long post, but that only means there's been a lot going on that hasn't been covered. So, to ensure this doesn't happen again, SEND US YOUR DEAD – er, NEWS! We want to hear from you if you have some news to share, or if you've heard of a horror-related opportunity or event.
*
The Australian Horror Writers Association had their AGM on October 6, and welcomed in a new committee lead by new president Mark Smith-Briggs. They've kicked off their reign in a controversial way by placing their showcase magazine, Midnight Echo, on hold while they review its future. However, they have clearly stated that ME is not being shut down, only postponed. Look out for big things from the committee in the coming months.
*
More on the AHWA: in October, the AHWA published the Australian Horror Writers Sampler 2013 (Kindle edition only), which provides a taste of the works of seven Australian horror/dark fiction writers (Shane Jiraiya Cummings, David Conyers, David Kernot, Troy Barnes, Matthew Tait, Kim Faulks, and Jay Caselberg), with the talented Greg Chapman designing the cover. The sampler also contains links to the various author's works, plus interviews and further information on the work. It's available from Amazon for $0.99.
*
Greg Chapman released the novella, 'The Last Night of October,' a refreshing Halloween tale published by Bad Moon Books, on October 31, featuring illustrations by the author himself and an introduction by the Queen of Halloween, Lisa Morton. The novella is picking up great reviews and is well worth a read. It's available as a trade paperback from Bad Moon Books for $15.95 and in digital copy from Amazon for $2.99.
"A soon to be classic of Halloween literature that further cements Greg's place as one of the greats working in dark literature today (…) Greg has delivered a story that you will want to read again and again as you get ready for our favorite time of the year. Nothing gets me in the mood for the Halloween season more than a good Halloween story, this isn't a good Halloween story, this is a great Halloween story" –Peter Schowtzer, Literary Mayhem
*
Marty Young's debut novel, 809 Jacob Street, was also published on October 31 by Black Beacon Books. The monster house calls to them all, but what will they find when they open it's door?
"Marty Young's 809 Jacob Street dragged me through the gutter, and had me enthralled with every page. The story explores so thoroughly a nightmare of tortured emotions and madness that it's hard to believe it isn't autobiographical. The characters, especially Joey Blue, are that convincing. This is a writer cutting his own way through horror, and I can't wait to see where his journey takes him. I, for one, will be watching from here on out, because he made me a fan with this book." Joe McKinney, Bram Stoker Award-winning author of Flesh Eaters and Dead City
809 Jacob Street is available in paperback from Black Beacon Books for $18.95 (includes worldwide postage), and in digital format from Amazon for $3.99. There's also a gritty blues song performed by David Schembri to go with it.
*
Former AHWA President and author of Hammered, Geoff Brown, has started a new publishing venture called Cohesion Press. Their first publication was an ebook reprint collection by the brilliant Kaaron Warren, called 'The Gate Theory.' Cohesion is also working on 'SNAFU: An Anthology of Military Horror' featuring five of the big names of the genre: Jonathan Maberry, Weston Ochse, James A Moore, Greig Beck, and Joseph Nassise. Apart from these solicited authors, they are open to submissions for the anthology. See the website for more details. Cohesion is accepting pre-orders for the book too, with special limited editions of all formats available.
Furthermore, Cohesion has also just announced its next title, the novella 'Ronnie and Rita,' by Deborah Sheldon. The title will be available soon in all eBook formats.
"Sheldon perfectly portrays the resignation to mediocrity that permeates many of the working/middle class neighbourhoods … and the desperate things they'll sometimes do to break away." Addam Duke, Crime Factory Magazine
*
David Conyers co-edited (with Brian M. Sammons) the mass market anthology 'Undead and Unbound: Unexpected Tales from Beyond the Grave' (Chaosium Inc.) back in August. The anthology features stories by Cody Goodfellow, Gary McMahon, William Mieke, our own David Schembri, and more.
'Undead & Unbound celebrates those who have returned from the grave — in all their glory and in whatever form they take. You will find the famous blood-drinkers and flesh eaters here, but also ghosts, patched-together reanimates, fiends of myth and folklore, and some not-so-easily-identifiable creatures from beyond the grave.'
The anthology is available from Chaosium Inc. for $17.95 and from Amazon.
*
The Canberra Times newspaper published an article in time for Halloween listing 'ten books guaranteed to scare you witless'. The list, which was compiled with input from Australian horror writers, was dominated by Stephen King (The Shining, It, Pet Sematary, and Salem's Lot), along with a number of classics (Dracula, The Complete Tales and Poems of Edgar Allan Poe, Frankenstein, The Exorcist, and The Turn of the Screw), and the mind-bending House of Leaves by Mark Z. Danielewski.
Also mentioned in the article were a number of books by AHWA members, including The Pilo Family Circus by Will Elliott, The Dead Path by Stephen M. Irwin, and Living with the Dead by Martin Livings.
*
ScaryMinds is back up and running again on a new server after a long hiatus. 'ScaryMinds is dedicated to exploring home brewed movies and literature from Australia and New Zealand. If you like movies such as Australia or The Year My Voice Broke then you are at the wrong site. If you dig Mad Max, Undead, or Wolf Creek then dive on in like a wild thing. Don't believe us? Check back regularly as we continue our mission of digging under every rock to discover what's happening, whose doing what, and what the state of play is in horrorland Down Under.'
*
Continuing his brilliant work on exposing long lost and forgotten Australian colonial horror/gothic fiction, James Doig will be releasing the neglected Aussie horror classic, Twisted Clay, written by Frank Walford (first published in 1933). The UK author/editor/publisher, Johnny Mains is bringing it under his Noose & Gibbet imprint, complete with a restoration of the original cover. Twisted Clay is about a teenage, lesbian Jill-the-Ripper. Look for this in late 2013/early 2014, and in the meantime, you can read about this book here, or check out what Doig has to say about it here (spoiler alert!).
*
Matthew Tait's short story collection 'Ghosts In A Desert World' has been released for the first time in paperback. Under the auspices of HodgePodge Press, this second edition is revised and expanded, and also includes a previously unpublished novelette called 'Mutability of the Flesh.' It is available from Amazon in both print and digital formats.
"The depth is there, the atmosphere is there, making this one of the best examples of this genre I've had the pleasure to read. This collection not only shows that the writer has the chops to go places, but that he should be there already." Daniel I Russell, author of Shadow Award nominated CRITIQUE
*
Award-winning NZ writer Paul Mannering has released a revised edition of his novel, Tankbread, through Permuted Press. Tankbread is available from Amazon in print and digital formats.
"Paul Mannering's TANKBREAD is a guts and glory joyride into very dark territory. Very nasty and lots of fun!" Jonathan Maberry, New York Times bestselling author of DEAD OF NIGHT and DUST & DECAY
Mannering also recently won 1st and 3rd place in SpecFicNZ's 2013 Halloween drabble writing competition.
*
Alan Baxter has just signed a three book deal with HarperVoyager for a new urban grim dark series, to be published between July and December next year. Keep an eye out for more details as this will be a series well worth reading.
Baxter's new weird western ghost story has also just been published in the Halloween issue of Beneath Ceaseless Skies magazine #133.
*
Jason Fischer's zombie/post-apocalypse based collection called 'Everything is a Graveyard' will be published through Ticonderoga Publications on November 11, 2013. Pre-orders can be made here.
"He flicked the coin onto the table and it spun lazily, resting on tails. An eagle, squatting on a cactus, snake held aloft in its beak. Cinco pesos, the worn script read . . . " Within these covers, you will find murderous dropbears, zombie kangaroos and undead camels. Poignant endings to the world mash-up with muscle car battles, featuring feral killers that make Mad Max look like the Disney channel. Everything is a Graveyard delves into the fantastic, the horrifying, the sad and the just plain weird.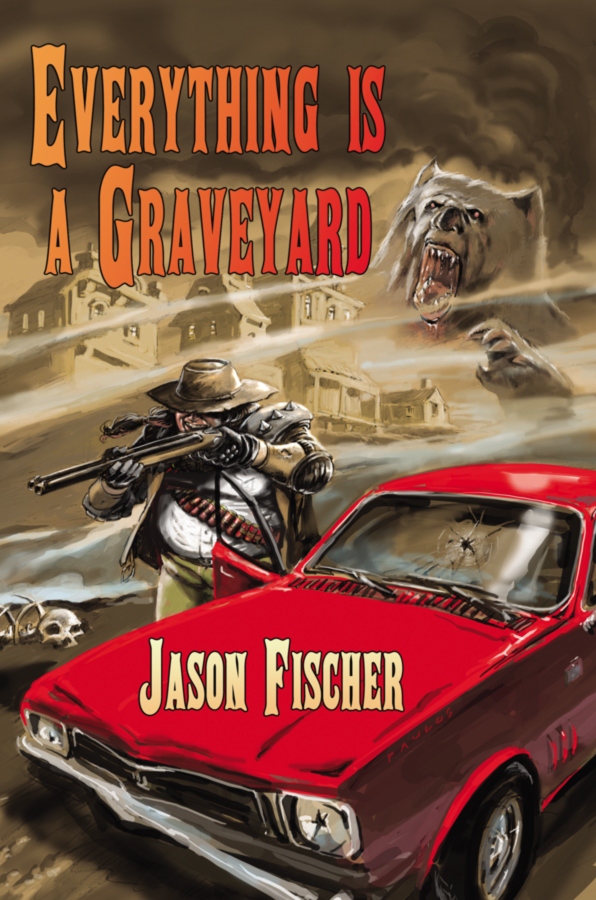 Jason's also had some deep thoughts about zombies, the Apollonian-Dionysian dichotomy, and how Romero's "Land of the Dead" finally makes sense to him.
*
Australia's own Halloween expert, Gillian Polack, was interviewed on the history of Halloween on ABC Sydney (by Dominic Knight). The interview fittingly ran on October 31, but unfortunately isn't available online. If we find a podcast of the interview, we'll post it.
*
Australian writer/director Stuart Simpson has entered his 3 minute short film called M is for Mutant! into the ABC of Death 2; The Search for the 26th Director competition. The short is available online. Voting ends on November the 14th, with the top 12 entries announced on the 15th.
*
Do you run/own a horror-related business based in Australia? If so, let us know and we'll post in on Horror Net Australia, your one stop online Yellow Pages of all that's horribly good! It's THE place to go to be seen.
*
And finally, don't forget to check out Sinister Reads to see all the latest releases by members of the AHWA. It's the place to go to find your next book.
*
Have we missed anything? More than likely. If so, let us know.